Am 05.06.1946 wurde der Berufsverband Deutscher Psychologen in Hamburg gegründet. Und auch wenn dieses Jubiläum pandemiebedingt nicht mit einem rauschenden Fest in der Gründungsstadt gefeiert werden konnte, so wurden Mitglieder und Gäste unter Federführung der Landesgruppen doch für ein ganzes Wochenende mit auf eine Zeitreise genommen. Von der Vergangenheit über die Gegenwart bis in die Zukunft ließen sie uns teilhaben an Meilensteinen und bewegenden Momenten in der Verbandsgeschichte.
Eigentlich begann die "Jubelwoche" schon am Montagabend mit einem virtuellen "Psychologischen Quartett" zum Thema Kinderschutz und Kinderrechte. Und so wurden die ganze Woche über jeden Abend eine Veranstaltung angeboten: Am Dienstag wurde geladen zum "Politischen Lagerfeuer" rund um das Thema Psycholog:innengesetz und am Mittwoch zum "Expert Talk" zur Zukunft der Psychologie. Nach einer kurzen Verschnaufpause ging dann am Freitagabend der Feiermarathon los.
Unter der Überschrift "Wie wir wurden, was wir sind" wurde ein spannender geschichtlicher Bogen über die Epochen der Verbandsentwicklung von
1946 bis heute gespannt. Dabei wurden viele Akteurinnen und Akteure gewürdigt, die diese Entwicklung ermöglicht haben. Durch die professionelle Moderation und musikalische Untermalung der Kölner Band Voices of Joy, konnte sich trotz physischem Abstand eine schöne Atmosphäre entwickeln.
Am Samstag, dem eigentlichen Geburtstag des BDP eröffnete Präsidentin Dr. Meltem Avci-Werning mit einem Festvortrag den folgenden Festakt. Auch Prof. Markus Bühner, Präsident der Deutschen Gesellschaft für Psychologie, dem Föderationspartner des BDP hielt eine Ansprache, gefolgt von Prof. Christoph Steinebacher, Präsident der europäischen Psycholog:innenvereinigung (EFPA), und Prof. Beate Wimmer-Puchinger, Präsidentin des österreichischen Psycholog:innenverbandes BÖP. Prof. Cornelia Betsch, Preisträgerin des Deutschen Psychologie-Preises 2021, hielt einen Vortrag zu Psychologischen Aspekten der Pandemie. Wer nicht dabei war und nun denkt, das wäre bestimmt eine trockene Veranstaltung gewesen, der hat weit gefehlt. Aufgelockert wurde die Veranstaltung durch zum Teil sehr anrührende Grußbotschaften von psychologischen Verbänden aus aller Welt, live-Musik einer Studierenden Band und einem Vortrag zum Thema "Lachen in der Pandemie".
Am Nachmittag ging es spannend weiter. Die Landesgruppe Hamburg entführte die Gäste auf eine Stadtrundfahrt durch die schöne Gründungsstadt. Es gab ein paar Impressionen der Hansestadt, einen Blick auf die Gaststätte, in der damals das Gründungstreffen stattfand und es wurden Kolleginnen und Kollegen interviewt, die vor Ort in den unterschiedlichsten Bereichen der Psychologie tätig sind.
Nachdem man sich auf kurzweilige Weise vielleicht bei einer netten Tasse Kaffee informieren konnte, wurde es dann interaktiv. Der virtuelle Workshop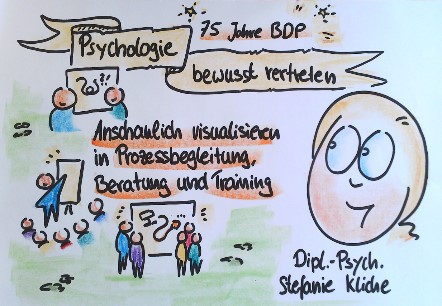 zum Thema "Anschaulich visualisieren in Beratung, Training und Prozessbegleitung "mit Stefanie Kliche stieß bei den Teilnehmenden auf großen Anklang und brachte die Erkenntnis, dass man kein großer Künstler oder keine große Künstlerin sein muss, um die vermittelten Techniken nutzen zu können.
Der Abend wurde von den Landesgruppen Baden-Württemberg und NRW gestaltet. Unter der Überschrift "Let us entertain you" boten sie einen Wechsel aus Erfolgsgeschichten des BDP und Live-Musik der Kölner Band Voices of Joy. Untermalt wurde die Veranstaltung von einem und dem die Teilnehmenden über die Schulter gucken konnten. Fredi Lang als Fachreferent des BDP berichtete zusammen mit Johanna Thünker über die Entstehung des Berufs des Psychologischen Psychotherapeuten bzw. der Psychologischen Psychotherapeutin und den langen steinigen Weg bis dahin. Im Weiteren erzählte er im Gespräch mit Moderator Marc Hartenstein von zahlreichen weiteren, bekannteren und unbekannteren Meilensteinen des BDP: Der Beteiligung an der Christoph-Dornier-Klinik in Münster, der Einführung der DIN 33430 (sie ist die Empfehlung, durch die alle Eignungsbeurteilungs-Anlässe eines Unternehmens qualitätsgesichert, transparent und vergleichbar gestaltet werden können), die Studiengangs-Listen des BDP, das EuroPsy-Zertifikat und gleich mehrere erfolgreiche Hotline-Aktionen in Krisensituationen. Zum Ausklang des Abends wurden alle Teilnehmenden noch eingeladen, gemeinsam anzustoßen.
Sonntagvormittags, zum letzten Akt des Jubiläumswochenendes, war der Zustrom an Teilnehmenden ungebrochen. Erneut unter Leitung der beiden Landesgruppen und professioneller Moderation wurde ein Blick in die Zukunft gewagt. Verschiede Aktive des Verbandes berichteten über die Pläne in den Bereichen. Sina Weickgenannt, Vorsitzende der BDP-Studierenden, stellte die Projekte von BDP-S vor. Johanna Thünker als Koordinatorin der AG Berufspolitik präsentierte die berufspolitischen Aktivitäten im Superwahljahr, Fredi Lang jene zum Psycholog:innengesetz. Julia Scharnhorst,Präsidentin der Sektion Gesundheit-, Umwelt- und Schriftpsychologie stellte die Arbeit der verbandsweiten AG Klima und Psychologie vor, Inge Neiser, Vorsitzender der Sektion Klinische Psychologie, die der AG PsychThG. Petra Jagow, Vorsitzende der Landesgruppe NRW, und Thordis Bethlehem, Vorsitzende der Landesgruppe Baden-Württemberg, stellten die zahlreichen – vor allem virtuellen - Aktivitäten für Mitglieder vor und auch die Teilnehmenden hatten die Möglichkeit, sich zu Wort zu melden. Zu guter Letzt hielt die Präsidentin einen Impulsvortrag unter der Überschrift "Psycholog:innen nehmen Einfluss auf gesellschaftliche Prozesse". Und dann endete diese tolle Veranstaltung auch schon, untermalt von einem wunderbaren Abspann mit Fotos von allen Aktiven, den Manuel Lentz erstellt hat – der Mann, der im Hintergrund mit Kamera und Technik unermüdlich dabei war.
Johanna Thünker